Men's singles champion
Photo by Lucas Dawson/Getty Images


Fact: The final lasted for 5 hours 53 minutes.
Picture courtesy of Robert Prezioso/Getty Images
Fact: It's her first Grand Slam win.
French Open 2012 Singles Champion
Men's Single Champion
Rafael Nadal
Picture courtesy of AFP
Fact:
By winning the 2012 French Open, he becomes the second male player and is one of the three to win any Grand Slam tournament seven time, the other being Pete Sampras and Roger Federer winning seven Wimbledon titles apiece

.

Women's Single Champion


Maria Sharapova
Picture courtesy of Reuters
Fact:
She completes a career Gland Slam by winning all four major tennis tournaments Wimbledon (2004), U.S Open (2006), Australian Open (2008) and the French Open ( 2012). She is only the 6th women in the Open Era to achieve that after the likes of Steffi Graf, Martina Navratilova, Margaret Court, Christ Evert and Serena Williams.
Men's Singles Champion
Roger Federer
Picture courtesy of Action
Fact: This is his 17th Grand Slam tittle and seventh Wimbledon title.
Women's Singles Champion
Serena Williams
Picture courtesy of AFP
Fact: Serena Wins her fifth Wimbledon title, tied third most of the Open Era.
Men's Singles Champion
Andy Murray
Picture courtesy of: DON EMMERT/AFP/Getty Images
Fact: At the U.S Open 2012, he became the first British player since 1977, and the first British man since 1936, to win a Grand Slam singles tournament. The title makes him the only British champion during the open era.
Women's Singles Champion
Serena Williams
Fact: It's her fourth U.S Open title and her 15th grand Slam overall.


Fed Cup
WTA Dubai Duty Free Season Ending Championshiop
Serena Williams
Fact: Capping a remarkable year where she won Wimbledon, Olympic Gold medals for singles and Doubles(with sister Venus) and The U.S Open. A winner back in 2001 and 2009.


ATP Barclays Season Ending Championship
Novak Djokovic.
Davis Cup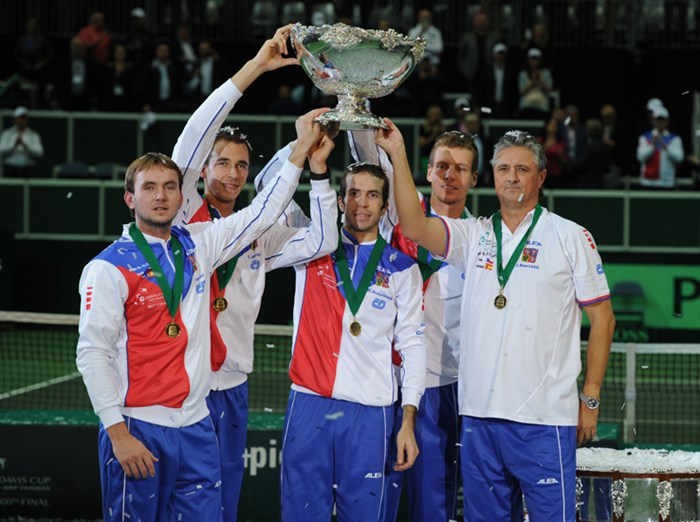 Fact: This caps a rare double for the Czech team as the women's team won the Fed Cup as well.
Other notable news articles and tennis related videos:
On the Australian Open leg:
On the U.S Open leg of the tennis tour.
A round up of the Men's tennis circuit.
Best Grand Slam and Olympic matches of the Year 2012.
Best ATP World Tour Matches of the Year 2012.
Bob and Mike Bryan;
A round up the Women's tour circuit.